Germany's three-river city feels wrath of flood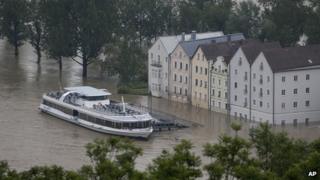 Passau is used to floods - but nothing like this one. It is known as the Dreifluessestadt - Three-River City - because it sits precariously on a thin, low sliver of land with the Danube on one side, the River Inn on the other.
Where the two meet, the River Ilz also pours its waters from the mountains into the torrent.
People in the town say there are floods every four years, but never one in memory like this one.
They point to marks to which the "once-in-a-century" flood of 2002 had risen - and how those marks were well below the current waters.
Overnight, boats ferried drinking water to people who had stayed on the upper floors of their homes.
As one postwoman-turned-water patroller said: "Electricity and water are a bad combination" - which explains the blackouts in town.
In the morning, the waters had noticeably subsided, and what was below water at midnight was visible by morning - for Chancellor Angela Merkel to see as she toured the banks of the Danube.
Unanswered question
It is not a time to think of politics, no doubt. But this is election year and "Mutti" (Mum), as ordinary people call her, played her role as concerned leader of the nation - some say "mother of the nation".
Politicians know that natural disasters before elections can become political disasters at elections.
Chancellor Merkel will appear in the papers and on the TV news bulletins having vowed to focus the energy of her government on repairing the damage that nature has wrought.
People clearing out their submerged living rooms will have other preoccupations, but politicians can get benefits even from the wrath of three rivers.
Chancellor Merkel promised that the federal government would earmark 50m euros (£43m) in direct aid to flood affected areas, with the government of Bavaria matching the sum in the region.
That money may have to be spread over a wider area. All the signs were that the waters of the Danube were subsiding, but other rivers further north started to look more threatening.
In Saxony, the Elbe was rising to dangerous levels, as waters poured in from the Czech Republic.
In Meissen, home of a world-famous porcelain manufacturer, the city centre was flooded. In Dresden nearby, one of the main bridges was closed.
The unanswered question is whether floods are getting worse and more frequent in this region.
The two big floods in recent memory were in 2002 and now - both previously predicted to be very rare events. But the big one before that was in 1954 - before concerns about global warming.
The Danube is a busy commercial waterway which is much subject to man-made alteration, both to improve navigation and to change the waterside for development.
This human engineering of the landscape is constantly monitored and debated in the region. The current floods will add to that debate.