Sicilian half-built hotel demolished at Turkish Steps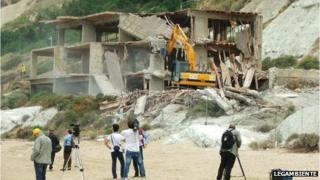 A court battle that has lasted nearly 25 years has ended in the demolition of one of Sicily's most hated buildings.
The bulldozers have moved in on a half-built hotel that has long ruined one of the most beautiful places on the Italian island.
Its owners have fought a quarter-century-long battle to save it.
But environmentalists are welcoming what they say is a sign of Sicily's new determination to put right disastrous planning regulations of the past.
The BBC's Alan Johnston describes the land the building sits on - next to the "Turkish Steps " - as one of the most striking bays on the Sicilian coast.
Dazzling white cliffs descend onto a wide sandy beach and clear blue sea.
But the setting has been scarred by the concrete skeleton of what was intended to be a hotel.
It is typical of many huge buildings allowed to spring up in Sicily, apparently without constraint, in the 1980s.
After the failure of their last-minute appeal, the owners are now being forced to demolish it.
The bay will be restored to its original state.
The local mayor said the demolition proved the authorities were serious about creating a better future for the area.