France air traffic control strike hits Europe flights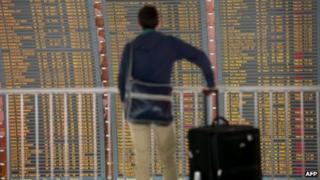 European travellers are facing further disruption because of an ongoing strike by French air traffic controllers.
More than a quarter of flights from France's busiest airports had to be cancelled on Wednesday amid protests at plans for a single European airspace.
Controllers say the plans will affect public safety and working conditions.
Airlines based outside France have also suffered upheaval. Ryanair was forced to cancel more than 240 flights on Wednesday, while EasyJet scrapped 128.
Air traffic workers elsewhere in Europe were expected to join the French strikers by working to rule, picketing and distributing leaflets.
'Grossly unfair'
Major French airports, including Charles de Gaulle, Orly, Lyon, Nice, Marseille, Toulouse and Bordeaux were all said to have been affected by the three-day strike called by the European Transport Workers' Federation (ETF).
The French Directorate General for Civil Aviation (DGAC) said the strike action had intensified on Wednesday, forcing the cancellation of about 1,800 flights for a second day in France. "Nearly 100%" of France's air traffic controllers were participating in the strike, it added.
On Tuesday, the DGAC said it had asked airlines to cancel 50% of their services and advised travellers to contact them for further information.
Flights through French airspace were also expected to be axed on Wednesday, and passengers bound for other European destinations were told to prepare for delays of up to four hours.
The budget airline Ryanair said it had been forced to cancel 200 flights on Tuesday and would cancel another 250 on Wednesday as a result of the strike action.
A statement called on the European Commission to remove air traffic controllers' right to strike.
"It is grossly unfair that thousands of passengers had and will have their plans disrupted as a result of Europe being held to ransom by tiny numbers of French air traffic controllers," it added.
The rival airline, EasyJet, also said it had cancelled 256 flights since Tuesday.
The ETF has said the strikes aim to "stop a never ending process of liberalisation, deregulation and cost-cutting in the Air Traffic Management (ATM) industry".
It said the European Commission's so-called SES2+ proposals to update the Single European Sky (SES) project and amend the rules governing the European Aviation Safety Agency (EASA) would "jeopardise safety and the number and quality of jobs".
The European Commission estimates that inefficiencies in the way Europe's air traffic is managed add 42km (26 miles) to the average flight, forcing planes to burn more fuel and generate more emissions. The system causes delays and costs airlines and customers 5bn euros (£4.2bn: $7.3bn) annually, it says.
It wants to centralise air traffic controls, rather than leave each member state to monitor its own skies. The commission says this could triple airspace capacity, cut costs and reduce delays.
On Tuesday, Transport Commissioner Siim Kallas told the European Parliament: "The time has come for more decisive action. If we leave things as they are, we will be confronted with heavy congestion and chaos in our airspace."