Turn back the limousines: EU-US trade pact faces rocky road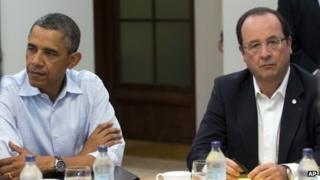 In just one week's time, the limousines will pull up outside US government offices in Washington DC.
The chief negotiators sent in from Brussels will sit down opposite their US counterparts, to start work on what will be the largest bilateral trade agreement in history.
If it ever comes to pass.
Many difficulties were already anticipated as the two economic powers sought to find common ground on this complex issue.
Now, some of Europe's politicians have suggested the spying scandal could jeopardise the whole deal.
In France, President Francois Hollande, said "there can be no negotiations … until we have obtained guarantees" that the US is not spying on the EU.
From Viviane Reding, the EU's top official for justice, came this: "We cannot negotiate about a big trans-Atlantic market if there's the slightest doubt that our partners are carrying out spying activities on the offices of our negotiators."
The leftwing French MEP Jean-Luc Melenchon called for a suspension of all trade negotiations with the US. He even called for the EU to grant asylum to Edward Snowden, the US citizen who is said to have leaked the top-secret papers in which the alleged US spying operations are detailed.
'A new dimension'
There is politics at play here of course. Some in France were already wary about having a trade deal with the Americans. There are fears that it could "water down" the French way of life.
However, there is also clearly a deep sense of unease in many European capitals. "You don't spy on your friends," is how one senior figure put it.
Some may not be surprised that spy agencies are trying to gather as much information about their allies as well as their enemies.
Carl Bildt, the Swedish foreign minister and a career politician and diplomat, said foreign diplomatic missions expect to be listened into. "That's why we have measures to stop it," he said.
Martin Schulz, the president of the European Parliament, acknowledges that, but he says there should be a difference when it is a country you class as an ally.
"When we went to Eastern Europe in former times we knew that they were listening and you could prepare yourself. But now I go to the United States and I cannot be sure if my own friends are listening to what I am saying in closed rooms? This is new, this is a new dimension."
There has already been some concern that British intelligence has been working with the US on some of its controversial surveillance programs.
In Berlin, according to Der Spiegel magazine that broke the initial revelations, German law and security officials were to hold a video conference with their UK counterparts at the British embassy on Monday.
The pressure on Chancellor Angela Merkel is rising, both within the opposition and in her own camp, to take the issue up with President Obama and British Prime Minister David Cameron.
Will this though, however uncomfortable it is, actually scupper the trade talks, and the wider trans-Atlantic relationship?
It is hard to know. Almost certainly the trade talks are simply worth too much to both sides to give up on them before they are even started.
The United States and the European Union represent about half of the world output. The European Commission estimates that overall annual gains from a deal could amount to 0.4 percent of GDP.
However it is not ideal to enter such talks with an air of suspicion hanging over the meetings.
Martin Schulz told the BBC: "This is a strong strike against those who are deeply in favour of enhanced co-operation between the US and Europe."