Hungary's tobacco law: Leaked tape causes outrage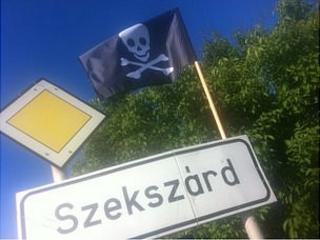 Sales of tobacco undergo a revolution in Hungary this week - but many opponents allege the whole scheme is a corrupt ploy to reward supporters of the governing party.
A pirate flag flies from the town hall in Szekszard, a medium-sized Hungarian town, best known for its strong, ruby-red wines. The flag, like those at the entrance to the town, was made and hoisted by shop-owner Robert Forenszky, in protest against the new tobacco concession law.
Five thousand new tobacconists open their doors in Hungary this week, a drastic reduction on the 42,000 outlets previously allowed to sell tobacco products, in the biggest ever shake-up of the Hungarian retail cigarette trade.
The right-wing Fidesz government says the move is the latest blow in its battle against youth smoking - following the banning of smoking in bars and restaurants in 2011.
Sister's success
Mr Forenszky, 45, a former TV journalist, applied for one of the licences, but was refused. He believes he is the victim of foul play.
A tape-recording has emerged of a March meeting between the mayor of Mr Forenszky's town and other top Fidesz officials, at which they discussed who should be granted one of the precious new tobacco-selling licences.
"How many election-slips did he ever bring for Fidesz?" asked the mayor when Mr Forenszky's name came up.
"Even though we bought a lot of flags from him!" added the local MP.
Both the mayor and the MP admit it is their voices on the recording but say they were joking.
With 10 years' experience of running a popular food and general stores in the Csatary district of town behind him, Mr Forenszky confidently applied for two 20-year tobacco concessions before the February deadline. At the end of April, he discovered both had failed.
Local smokers will have to turn to the successful applicant - the mayor's younger sister - who was awarded a tobacco concession for her petrol station nearby.
A few streets away, Zoltan Toth earned about a third of the income of his general stores from tobacco sales. His son is autistic, and has had leukaemia, and the family struggles to fund the specialist treatment he needs.
One of the stated aims of the new law was to take cigarette profits away from the big department stores and petrol stations, and give it to needy Hungarian families and disadvantaged people. Mr Toth's application for a new licence was also rejected.
"I just hope now they scrap the whole thing and revert to the old system," he says, as he serves a customer with bread and cigarettes. Under the law, old stock can be sold until 15 July.
'Hysterical' claims
The mayor and council of Szekszard should officially have had no role in deciding on the distribution of licences - and should not even have known who had applied.
An investigation has been launched by Hungary's public prosecutor against unnamed persons for the "illegal handling of personal data".
However, Zsolt Gyulay, the head of the National Tobacco Trade Non-Profit Company, which oversees the distribution and control of the new licences, says: "I am 100% sure that no lists of applicants were leaked from this office."
"Many people have been surprised by how tight our security is!"
He says the 15,000 applications were judged by 65 experts with experience of assessing business plans.
"I am confident that the investigation will clear us of any wrongdoing," says Mr Gyulay.
He blames the attacks on his office on "the thousands of disappointed applicants, and the big multinationals".
Government spokesman Ferenc Kumin is equally adamant that there was no nationwide conspiracy to give lucrative tobacco licences to Fidesz supporters.
"I don't believe you would be able to demonstrate that there is a political motivation there, on a large-scale. There are only 10 months to go to the next general election, and this is a period when every kind of controversial issue is magnified… onto a hysterical level."
Fidesz enjoys a huge majority in parliament, but has also faced rising public opposition.
It has been accused of trying to rewrite the constitution along right-wing lines and putting loyalists in top positions - charges it vehemently denies.
Back in Szekszard, the man who leaked the tape recording, Akos Hadhazy, shakes his head. He is himself a Fidesz councillor, but recorded the party meeting on his mobile phone, and made it public after he was accused by the mayor and other councillors of lying.
"I wanted to show that a line has to be drawn somewhere. That there are some things in Hungary which those in power should not be allowed to get away with," he says.
"Unfortunately, at the moment it seems they can."