Castlebar deaths: Man charged with Mayo brothers' murders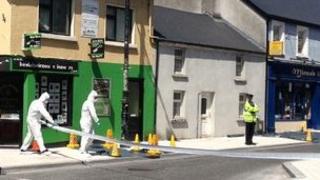 A 26-year-old man has appeared in court charged with the murder of two elderly brothers who were found beaten to death in Castlebar, County Mayo.
Tom and Jack Blaine, aged 68 and 70, were found dead at their New Antrim Street home at about 07:00 BST on Wednesday by their home help carer.
Both men had physical disabilities and were mentally impaired.
Alan Cawley, from Corrimbla South, Ballina, County Mayo, was remanded in custody at Swinford District Court.
He had been arrested on Wednesday evening and was taken to Castlebar police station for questioning.
A detective sergeant told the court the accused made no response when the first charge of murder was read to him at the station at 01.08 BST on Friday.
Mr Cawley did not speak throughout the court hearing.
He was remanded in custody to appear before Harristown District Court on 19 July.
The Blaine brothers had lived in County Mayo for the last 30 years, having come home from England to look after their mother.
At the scene of the attack, Jack Blaine was found in a downstairs bedroom and Tom was discovered in the backyard of their terraced home.