North west's young sports stars to excel in China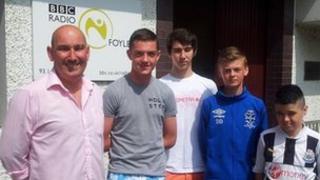 Fifty young sportsmen from the north west have become the first to represent Northern Ireland at the prestigious Confucius Institute in China.
Selected especially for their sporting ability, each of the students has also passed an exam in basic Chinese.
They'll join 4,000 students who have come to Beijing from all over the world to learn Chinese and play football.
The Confucius Institute is a non-profit organisation that promotes Chinese language and culture.
The project was organised by Millburn PS in Coleraine, County Londonderry, the first primary school in the UK to be named a Confucius Centre, in conjunction with Holy Family PS in Londonderry.
The principal of Holy Family, Gary Matthewson, said it was a unique opportunity.
"Nothing like this has ever been done before.
"The pupils have been training together and have passed their Mandarin Chinese level one, which is a fantastic confidence booster.
"They'll be playing lots of football, but they've also been selected as ambassadors for their schools and for the north west, so they'll have the opportunity to excel in Chinese sports and visit cultural sites like the Great Wall of China and terracotta army.
"Not only will they be training and studying with each other, they will be sharing rooms and getting to know boys from all over the world on a daily basis," he said.
For the pupils, all the hard work was worth it when they jetted off for China on Monday.
"It's going to be a great experience," said Eoin Matthewson from Lumen Christi College in Derry.
"You don't often get the chance to go across the world just to play football."