Greenpeace protests inside French nuclear plant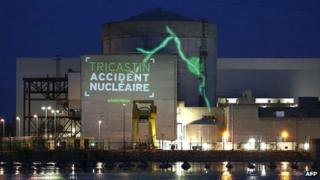 French police have arrested at least 29 Greenpeace environmental activists who broke into a nuclear plant.
Greenpeace said the activists reached the walls of the reactors in the Tricastin plant in southern France.
However the interior ministry said the protesters, in several groups, did not reach the most secure areas.
The activists projected huge anti-nuclear slogans onto the outside walls. Most of France's electricity comes from nuclear power.
Tricastin is in the town of Pierrelatte, some 200km (120 miles) north of Marseille.
One slogan projected onto the walls read: "Tricastin: nuclear accident". Another, next to a picture of President Francois Hollande, said: "President of a disaster?"
Police said French activists were accompanied by Italians, Romanians and Spaniards. Some chained themselves to parts of the building, making the police operation to detain them difficult.
Jean-Vincent Place, a prominent Green politician and French senator, told Europe 1 radio the Greenpeace action "shows that getting inside one of these extremely dangerous plants is a bit like passing through a sieve".
"With this action, Greenpeace is asking Francois Hollande to close the Tricastin plant, which is among the five most dangerous in France," Yannick Rousselet of Greenpeace said in a statement.
"If being physically able to touch the reactors is not being in a sensitive place, I don't know what is.
"People with bad intentions could have posed a threat to the reactor's safety."
France's nuclear security authority said it began an emergency meeting at 07:15 (05:15 GMT) on Monday. It said the infiltration had not posed any risk to the plant's safety.
But French interior ministry officials, quoted by the TF1 news website, said there would be a review of security at French nuclear plants.