Dublin's fair city divided over Molly Malone statue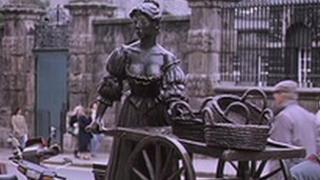 The ballad of Molly Malone, which tells the story of the street fish trader selling her cockles and mussels, is probably more associated with Dublin than any other song.
And the iconic black bronze statue of Molly and her cart of fish in different baskets at the bottom of Grafton Street in the Irish capital is a major tourist attraction.
But it is soon going to have to be moved when work begins on extending the city centre tram line to the area.
And now questions are being asked about where Molly should end up permanently.
Moore Street on the north side of the River Liffey is probably the area most associated with street traders, and those living north of the Liffey say that as a street trader she is one of theirs.
But as a major tourist attraction south-siders want to keep her.
Wendy, one of the north-side traders, wants Molly back to her spiritual home and away from the south-side posh types.
Colourful
"I personally think that the Molly Malone statue should be on the north side as she was a street trader and I think it would be nice to have the statue in Moore Street so that a lot of tourists can see it as they're going through," she said.
Independent councillor Nial Ring, also from the north side, wants her back and said: "Molly is stuck here for the last 25 years staring up at shops for the wealthy like Weirs and Brown Thomas, as well as the likes of, God forbid, Burger King and McDonald's.
"She sold fish. She should be in Moore Street where it's colourful, where there's character.
"There are flowers, fruit, everything that's fresh and everything is modern. And that's what Molly symbolises, modern Dublin."
Mannix Flynn, a fellow independent councillor but from the south side, strongly disagreed.
"A lot of tourists come up this street and they get their photographs and snaps of themselves here. And that's why the statue should stay here. There's no valid reason for moving the statue anywhere else," he said.
Australian tourists Margaret Walsley and Maureen Jones had their photographs taken beside Molly.
Maureen said she doesn't know much about Molly but she loves the statue, while Margaret, who also loves the statue, admits that she did hear stories about Molly's morals.
Now it's not for me to cast aspersions on a woman, who may or may not have existed.
'Provocative'
But let's just say Dubliners have nicknamed the statue as the Tart with the Cart. She has a plunging neck line and she is reputed to have sold more than cockles and mussels at night.
You get the picture.
And it's for that reason Moore Street fishmongers Margaret Buckley and her sister Imelda aren't sure they want Molly - who in their view attracts the wrong sort - back among them.
Margaret laughingly said: "Molly is good but she's very provocative. I don't think the male tourists there are just to look at the statue. They're more there to look at what's revealing. We're very, very hardworking women. We're not into that at all."
While Imelda said: "She's not nice. She's a lady of the night. No, let her stay over there. She only attracts perverts getting their photograph taken with her."
Poor Molly, not here to defend herself and her virtue.
But Imelda and Margaret are probably right in believing she'll almost certainly be staying south of the river.