Stations of the cross paintings stolen from Irish church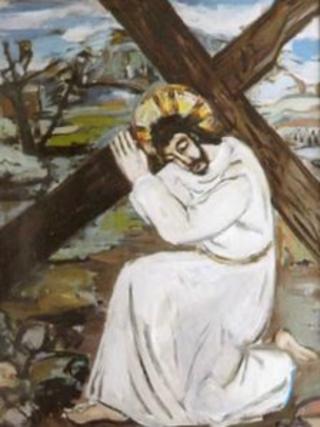 Six paintings, depicting images leading up to the crucifixion of Christ, have been stolen from a Catholic church in the Republic of Ireland.
The theft of the stations of the cross paintings took place at St Peter and Paul's Church in Kiltullagh, Athenry, County Galway.
It happened one week after keys to the rear door of the church were stolen.
A police spokesman said the paintings date from 1946 and are of "considerable material value".
Created by the artist Evie Hone, the stolen paintings depict scenes from from the third, fourth, fifth, 10th, 11th and 12th stations of the cross.
The have hung in the church for 67 years.
Detective Inspector Michael Coppinger said: "These paintings are of considerable material value, but they are invaluable to the church and to the parishioners."
He appealed to anyone who saw anything suspicious in the area, or who could help with the investigation, to come forward with information.