Dublin hospital apologises for error over medical scope contamination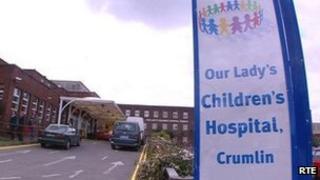 An Irish hospital has apologised to 18 families who were wrongly identified as being at the centre of a contamination scare over a medical scope.
Our Lady's Children's Hospital, Dublin, said the error arose because the contamination was attributed to the wrong scope.
Seven new patients are now being contacted about the colonoscope contamination.
They are separate from the 18 who have now been given the all-clear.
The hospital said the new group were being given stool testing kits.
A formal investigation is now under way into what happened.
The children had bowel examinations at the hospital between 17 May and 5 July.
On 6 July, a colonoscope that had been used was found to be contaminated with a bug that is resistant to common antibiotics, known as extended spectrum beta lactamases (ESBL).
Reassurance
On Wednesday, 24 July the hospital said the scope had been used in 18 examinations.
However, in a further statement on Thursday 25 July, the hospital said: "All 18 families originally contacted by the hospital in relation to the contaminated scope have been contacted again by the hospital to advise them that the risk of ESBL contamination has been ruled out.
"The hospital has offered them full tests so as to provide them with maximum reassurance and will continue to provide advice and support."
It added: "When the hospital carried out quality assurance checks on the scopes there were two that did not pass the test.
"One of those scopes was contaminated with ESBL and unfortunately there was an error in that the contamination was attributed to the wrong scope."
The hospital said the two contaminated scopes had been replaced.
It added that a positive screening had no immediate impact for patients but could affect the antibiotics chosen to treat the child if they show signs of severe infection.