Letterkenny Hospital flood clean-up to continue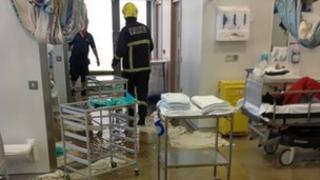 A major clean-up operation will continue into the "following weeks" at Letterkenny General Hospital in County Donegal following a flood, the Health and Safety Executive has said.
The accident and emergency department remains closed after a tributary of the River Swilly overflowed on Friday.
80 patients have been diverted from Letterkenny Hospital to Altnagelvin Hospital in Londonderry.
Patients have also been admitted to Sligo Regional Hospital.
Additional staff
A spokesperson for the Irish Health Service Executive (HSE) said the hospital is closed to visitors to avoid risk of contamination.
"Areas affected include the emergency department, radiology department, outpatients department, several wards and kitchens.
"Elective inpatient and day case surgery all this week will be rescheduled to a later date. Elective endoscopy appointments will also need to be rescheduled for this week. Orthopaedic fracture clinics are being relocated to Donegal Community Hospital. Surgical and respiratory medical clinics are being relocated to the Now Doc Centre in Oldtown, Letterkenny."
Geraldine McKay, director of acute services with the Western Trust, said "staff are coping admirably at Altnagelvin. They are very busy but are coping well.
"We had to bring in some additional staff over the weekend.
"People have stepped up to the mark since we found out about the incident on Friday.
"It's not clear how the costs will be recouped. Our priority is the patients and that they're treated properly.
Hospital volunteers worked through the night on Friday along with hospital staff, members of the fire service and police to try and bring the situation under control and mitigate the damage caused by the flooding.
The new, 70-bed emergency unit was opened earlier this year by Health Minister James Reilly.
Heavy rain also caused flash flooding in parts of Dublin, Wicklow and Westmeath.