Profile: German Chancellor Angela Merkel
10 March 2016

From the section

Europe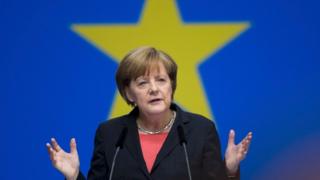 Chancellor Angela Merkel has cultivated the image of a prudent, pragmatic and down-to-earth leader, earning her the nickname "Mutti" - mother of the nation.
The conservative leader, 61, is in her third term after scoring a convincing victory in the September 2013 election. Only two post-war German leaders have achieved a third term previously - Konrad Adenauer and Helmut Kohl.
In November 2015, Forbes magazine ranked Mrs Merkel the second most powerful person in the world - the highest ranking ever achieved by a woman - and later that year she was named Time magazine's "Person of the Year", citing her role in Europe's crises over migration and Greek debt.
She has played a leading role in Europe's reaction to the migrant crisis, announcing that Germany would welcome refugees fleeing Syria's civil war. The German government says 1.1 million people claimed asylum in the country in 2015.
The decision to welcome Syrians won her plaudits in some quarters but sparked a backlash in others, with some senior ministers openly questioning the approach.
Street protests organised by the right-wing Pegida movement has drawn thousands opposed to "Islamisation" of Germany.
Anxiety over migration rose further following the 2015 New Year's Eve attacks in Cologne, when hundreds of women were robbed and sexually assaulted by crowds of men of North African origin who had gathered near the city's main train station.
The Alternative for Germany (AfD) political party has won seats in five regional parliaments since 2014, and hopes to make further inroads with its anti-migration message.
Mrs Merkel leads the Christian Democrats (CDU), who work with their Bavarian sister party the CSU in the federal parliament.
She first took office in 2005 after a tight election which forced her into an uneasy "grand" coalition with the centre-left Social Democrats (SPD).
Between 2009 and 2013, she governed with the pro-business Free Democrats (FDP). However, in 2013, the FDP met with electoral disaster, failing to win a single seat, leading Mrs Merkel to return to a coalition with the SPD.
Despite some resistance in the CDU/CSU, in recent years she has agreed to more left-leaning measures like a minimum wage in some sectors and abandoning nuclear power.
But the eurozone crisis has tested her talent for consensus-building to the limits - and she never fails to remind Europeans that the crisis is far from over.
Holding purse-strings
She has become the symbol of fiscal austerity, prescribing sweeping budget cuts and tight supervision by the EU as the cure for southern Europe's chronic debts.
Her message is that the heavily indebted countries - Greece, the Republic of Ireland, Italy, Spain and Portugal - will only become globally competitive by putting their national budgets in order and slashing the money spent on public services.
Key dates
1954: Born in Hamburg
1978: Earns physics doctorate
1990: Joins CDU
1994: Becomes minister for environment
2000: Becomes CDU leader
2005: Becomes chancellor
2013: Wins third term
2015: Named Time "Person of the Year"
Germany - Europe's most powerful economy - is the biggest paymaster for the eurozone bailouts, so Mrs Merkel has to a great extent driven the agenda during the EU's efforts to restore confidence in the euro.
But her role in setting tough conditions for bailing out stricken eurozone "periphery" countries triggered widespread hostility in those EU states. Some protesters in Greece and Spain even likened her to Hitler, suggesting that Germany was again imposing its agenda on the rest of Europe.
In a BBC interview in June 2013 she said Europe needed more labour mobility to tackle unemployment, with more young people seeking jobs in other EU countries.
Germany's resilience, low unemployment and healthy export success have boosted her popularity at home, where she is widely seen as a safe pair of hands in tough times.
She is seen as more pragmatic than charismatic. Earlier in her political career some saw her as boring, provincial and rather dowdy - an image she tried to shake off with bright, colourful outfits and a new hairstyle.
Eurozone tensions
Critics say her reluctance to resort to bailouts weakened the eurozone's credibility when the debt crisis escalated in 2010. Investors shunned the sovereign debt issued by Greece, Portugal and other ailing eurozone economies, pushing their costs of borrowing to unsustainable levels.
Many European politicians believed her insistence on austerity was pushing Europe deeper into recession. Eventually Mrs Merkel decided that fiscal austerity was only part of the solution, and that more fundamental EU reform would be necessary.
She pushed for an EU banking union, which is still only in its infancy, and for a transfer of supervisory powers to the European Central Bank and European Commission.
That push has undermined Germany's traditional alliance with France as the engine of the EU. French President Francois Hollande, a Socialist, has a tense relationship with Mrs Merkel.
Despite her election triumph in 2013 Mrs Merkel has survived some painful political setbacks.
In January 2013 the CDU narrowly lost an election in Lower Saxony state to the SPD-Greens alliance. That swung the Bundesrat upper house of parliament in favour of the opposition, meaning it can block legislation from the government and initiate laws itself. The Bundesrat is based on representation from the German states (Laender).
In her second term she also lost control of the key states of Baden-Wuerttemberg - traditionally a CDU stronghold - and North Rhine-Westphalia.
As a Protestant East German woman Mrs Merkel broke the leadership mould of the CDU, traditionally dominated by Catholic west German men.
She had also been divorced - though she kept her first husband's surname - and, in the "party of the family", had no children.
Analysts say she cowed many in the party by her decisive role in seeing off a party giant, former Chancellor Helmut Kohl.
When he was caught in a slush fund scandal, she was the first former Kohl ally to publicly break with the man who brought her into the cabinet, writing a front-page article calling for his resignation.
It helped put her in pole position when the party felt it needed a new beginning.
Science background
Born in Hamburg, Angela Merkel was only a couple of months old when her father, a Lutheran pastor, was given a parish in a small town in East Germany.
She grew up in a rural area outside Berlin in the Communist east, and showed a great talent for maths, science and languages.
She earned a doctorate in physics but later worked as a chemist at a scientific academy in East Berlin.
She had never been involved in politics but, at the age of 36, she became involved in the burgeoning democracy movement in 1989 and, after the Berlin Wall came down, she got a job as government spokeswoman following the first democratic elections.
She joined the CDU two months before the reunification of Germany and within three months she was in the Kohl cabinet as minister for women and youth.
She established herself in the party, rising through the ranks until she was chosen to lead it in 2000 and was elected Germany's first female chancellor in 2005.
She is married to a chemistry professor from Berlin, Joachim Sauer.