Former politician Brian Lenihan's son tells of suicide attempt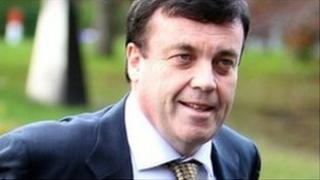 As Ireland's finance minister, Brian Lenihan was used to dealing with crises and had to tackle an economic meltdown.
But the most difficult crisis he faced was the one closest to home.
His son, Tom, suffered from depression and tried to end his life.
"When he was in office, he said the biggest crisis was me, because he just didn't have the answers," said Tom.
Tom told Irish state broadcaster RTE how his father struggled to be with him, even as he fought a very public battle with Ireland's economic crisis.
"He tried to keep in contact with me more. It broke his heart that he couldn't spend more time with me," he said.
"I told him and he broke down in tears. I expected that. He felt that he was letting me down."
He was speaking in the run-up to Tuesday's World Suicide Prevention Day.
Brian Lenihan cut a controversial figure in the tumult of the Irish financial crisis.
After taking office in May 2008, he saw his country battered by the global recession, and finally forced to accept a rescue package worth billions of euros.
The 52-year-old continued to serve in the government while undergoing a long programme of intensive chemotherapy and radiotherapy to fight a pancreatic tumour discovered at the end of 2009.
He died in June 2011.
Reflecting on how his late father coped with the huge struggle and major cutbacks needed to put Ireland on a firmer financial standing in the face of economic collapse, Tom Lenihan said his father found his son's personal crisis even harder to bear.
Talking on the Ryan Tubridy show, Tom Lenihan said that he had suffered depression from the age of 13.
"I had my first suicidal thought at age 13, it was a combination of low self esteem, low confidence. It continued through my teenage years."
He attempted suicide when he was 18 years old.
"The hardest thing for me in my life was to tell my dad I had depression. I didn't know how he would react. I didn't want to break his heart," he said.
Tom Lenihan also revealed details of his father's turmoil during the financial crisis, describing how the finance minister cried during deliberations over difficult budget cuts.
"Dad would have shed tears over it. The fact the cuts were so awful, you are balancing two impossible moral choices."
The law and business student is currently president of the Trinity College, Dubln's students' union.
He is working to raise awareness of depression and to encourage others not to "bottle up" their feelings but to seek help.