Irish junior doctors begin one-day strike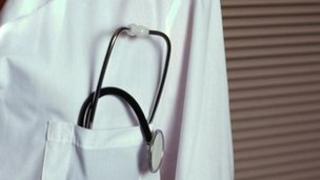 About 3,000 junior doctors are taking part in a one-day strike in hospitals across the Republic of Ireland.
The Irish Medical Organisation (IMO) said non-consultant hospital doctors were taking industrial action over their "dangerously long working hours".
Emergency services, cancer treatment and other essential services will be maintained during the strike but non-emergency patients will be affected.
The state broadcaster RTÉ said the strike had postponed 3,000 operations.
It also said 12,000 out-patient appointments had been deferred ahead of the day of industrial action which began at 07:00 BST.
About 50 hospitals will be affected by the first national strike by non-consultant hospital doctors in almost 25 years.
Public hospitals will operate the same level of service usually provided on a Sunday.
Dr John Donnellan, chairman of the IMO's non-consultant hospital doctors' committee, said that health and safety concerns for both patients and junior doctors were at the root of the dispute.
He said the working arrangements were "in breach of European directives".
"Our members are worried for the risks they pose to their patients and to themselves by current working conditions," Dr Donnellan added.