Postcode plan for Republic of Ireland by 2015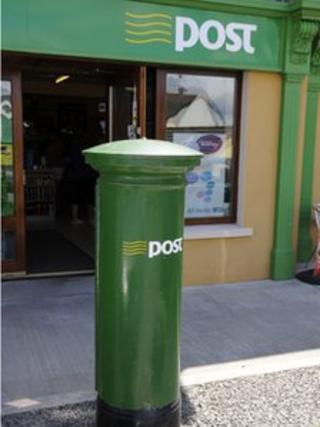 The Irish government is to introduce a new national postcode system by 2015.
Under the plan, a unique, seven-character postcode will be allocated to every letter-box in the state.
Irish Communications Minister Pat Rabbitte said: "The Irish code will be the first in the world to be unique to each individual address."
Unlike UK postcodes, the Irish postcode will not only help to identify the area and the street address, but it will also identify each individual property.
The UK introduced its system 54 years ago, but each postcode covers an average of 15 addresses.
Townland addresses
UK residents have to also supply their house or flat number to identify their individual address.
At present, the Republic of Ireland is the only state within the Organisation for Economic Co-operation and Development (OECD) that does not use a national postcode system.
Almost a third of domestic properties have a postal address that is not unique, with many rural homes using only a townland and county address.
Irish postal delivery workers often have to rely on local knowledge of rural areas and their residents, as there can often be several families with the same surname living within one townland.
Urban properties are currently identified by house number and street address, while Dublin residents use a postal district system that has been in use since the late 1960s.
Areas of the capital and its suburbs are divided into separate postal districts, from D1 in the city centre to D24 in south west County Dublin.
Emergency services
The Department of Communications said the existing Dublin postal districts would be incorporated into the new seven-character postcodes for properties in the city.
Announcing the plan to roll out postcodes within two years, Mr Rabbitte said: "There are many benefits, for example, given the prevalence of satellite navigation systems in cars, a driver will simply be able to insert a postcode into their device, rather than a lengthy address and will be provided with the accurate location.
"Similarly this will greatly benefit emergency services such as ambulance drivers to locate destinations for call-outs, which in some instances are life and death situations," the minister added.
The BBC asked the Department of Communications if any concerns had been raised about the potential loss of townland identities in rural Ireland when the postcode system is fully functioning.
In Northern Ireland, there have been a number of campaigns to retain and protect townland identities since the introduction of UK postcodes, including the erection of road signs in County Londonderry and County Armagh.
A spokesman for the Department of Communications said the new system would be used in addition to existing postal addresses and it would not be compulsory to use the new postcodes.