Russia 'regret' over attack on Dutch diplomat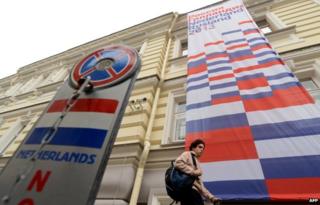 Russia's foreign ministry has expressed regret after a Dutch diplomat was beaten up in his Moscow apartment.
The Dutch foreign minister, Frans Timmermans, told parliament he had spoken to his Russian counterpart, Sergei Lavrov, and that Mr Lavrov had called the assault a "serious crime".
The Dutch foreign ministry had earlier summoned Russia's ambassador to demand an explanation for Tuesday's attack.
The incident comes amid rising tensions between the two countries.
Last week Russia protested about the arrest of one of its diplomats in the Netherlands, and the Dutch have complained about Russia's detention of a Dutch-flagged Greenpeace ship.
Ironically, 2013 was declared the "Netherlands Russia Year", with events designed to strengthen bilateral friendships, the BBC's Anna Holligan reports from The Hague.
Positive steps
The diplomat, Onno Elderenbosch, was slightly injured in the attack, Mr Timmermans said.
Mr Timmermans told the Dutch parliament that he had spoken to Mr Lavrov by telephone.
He said Mr Lavrov had been "shocked" by Tuesday night's attack, and that an investigation was underway.
"He called it a serious crime," said Mr Timmermans. "I think that is a good sign."
Russia's foreign ministry expressed its regret and said police in Moscow were taking every measure to find and apprehend the culprits.
Later on Wednesday, in a letter addressed to parliament, the Dutch foreign minister revealed that it had taken police an hour to respond to the incident "following repeated phone calls".
Mr Elderenbosch was overpowered by two men posing as electricians and wearing orange vests, Mr Timmerman explained.
When he opened his door, he was pushed inside and wrestled to the ground.
"The intruders stuck tape over his mouth and eyes and bound his hands and feet with tape," he said.
The attackers also daubed a heart on a mirror in pink lipstick with an arrow through it, with the letters LGBT written underneath, an abbreviation for "lesbian, gay, bisexual and transgender".
The Dutch prime minister, Mark Rutte, said he wanted to establish the facts as soon as possible.
"What has happened is extremely serious," he told reporters at the Dutch parliament. "But first we need to get the facts on the table."
After the detention of a Greenpeace crew on board a Dutch vessel last month, the Dutch government initiated legal action against Russia. The activists were protesting against plans to drill for oil in the Arctic.
Last week Dutch police entered the home of a Russian diplomat in The Hague and took him into custody, after neighbours reported hearing a row inside.
The Dutch foreign minister later apologised for breaking the rules of the Vienna Convention that recognise diplomatic immunity.
The latest incident comes as the new Dutch king, Willem-Alexander, prepares to visit Russia in November, as part of a year of events celebrating the relationship between the Netherlands and Russia.
Some people in the Netherlands have said he should reconsider his trip.