Czech election: Social Democrats leader refuses to resign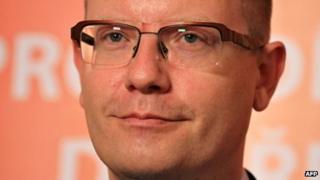 The leader of the Social Democrats in the Czech Republic has defied a call from his party leadership to resign following poor election results.
The Social Democrats won the most votes - with just over 20% - but do not have enough to form a government alone.
Chairman Bohuslav Sobotka says he has no intention of stepping down, despite a resolution from the party leadership.
Correspondents say this could further complicate efforts to create a new government.
The election came after months of political turmoil.
'Political responsibility'
The centre-right government of Petr Necas was brought down by a corruption scandal in June.
The country has been without a proper administration ever since - and is currently being governed by a caretaker cabinet of technocrats.
The Social Democrats called on Mr Sobotka "to take direct personal and political responsibility" for his party's disappointing results, according to Czech media
Mr Sobotka rejected the call, saying he could only be dismissed by the party's central executive committee, which appointed him.
"I will not resign because I want to keep defending values I believe in within the [party]," he said.
The BBC's Rob Cameron in Prague says the man leading the party mutiny - regional governor Michal Hasek - is close to the Czech President Milos Zeman, who will appoint the next prime minister.
Czech media are reporting that a plot to remove Mr Sobotka was hatched as early as Saturday evening, when his party rivals allegedly held secret talks with the president at a chateau outside Prague.
The politicians declined to comment on the claims.
Arduous
The Social Democrats had hoped to win enough votes to run the country with the support of the Communists - but neither had enough to succeed.
Analysts say the weekend's result could pave the way for another unstable coalition, with the second-placed Ano party in a powerful bargaining position.
Arduous coalition talks are expected in the coming weeks.
Our correspondent says the real winner in this election is Ano, a new centrist party which campaigns against corruption and is run by a food and agriculture billionaire.
Ano has almost 19% of the vote, and the Communists have just over 15%.
The leader of Ano, Andrej Babis, has told reporters he cannot envisage supporting a Social Democrat cabinet.
The country's coalition broke down in June amid allegations of corruption, spying and abuse of power.
A close aide of Prime Minister Petr Necas, with whom he was having an affair, was arrested on suspicion of bribery and ordering a military intelligence agency to follow Mr Necas' estranged wife.