Halloween water shortage in Dublin worries fire service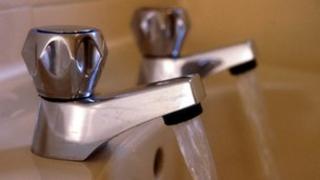 A problem at a water treatment plant in the Irish capital has led to Dublin City Council enforcing water restrictions.
However, representatives from the Irish Fire and Emergency Services Association said that the restrictions could not have come at a worse time.
The measures will be enforced from 20:00-07:00 GMT daily until Monday 4 November. Production at the troubled, Ballymore Eustace plant is estimated to have dropped by around 25%.
Dublin City Council said water restrictions will not impact on how the fire brigade deals with incidents on Halloween night and has reminded the public that all bonfires are illegal.
Fire and rescue officials have asked the public to remain "extra vigilant".
The fire and rescue service has worked alongside the council to ensure that contingency plans are in place for the Halloween period.
Dublin fire service responded to more than 600 call-outs in just 16 hours on Halloween night in 2012.
Water restrictions in counties Dublin, Kildare and Wicklow, affecting more than 500,000 people are expected to last until at least Monday.
A spokesperson for Dublin City Council said it may take "a couple of hours depending on location" for water supply to return to normal this morning.
Council representatives have advised water may temporarily appear discoloured. They have advised that water which is cloudy in appearance is safe to drink.
They issued further advice that if water is brown, orange or yellow in appearance it should be used for any purpose other than drinking or cooking. They advised running the tap for two to three minutes may resolve the discolouration of water.
Dublin City Council engineer, Michael Phillips said he suspects the problems at the plant may have been caused by excessive rainfall.
"The characteristics of water change from season to season, they normally operate within a certain band. We haven't experienced this, in this plant, over the past 20 years," he said.
"So whether it's due to the weather or the climate we do not know".
The timing of the restrictions have been criticised by some business owners in Dublin.
Chief executive of the Restaurant Association of Ireland, Adrian Cummins, highlighted a number of times when water restrictions have been put into place over the last six months.
"Obviously, they are not going to give us any compensation.
"It seems to be every six months in this country. We had a water shortage during the summer, we have a water shortage now, and probably if we have snow in the winter time, we will have a shortage again," he said.
Restrictions will resume at 20:00 GMT on Thursday.