Meath body parts were Dublin man Christopher Gaffney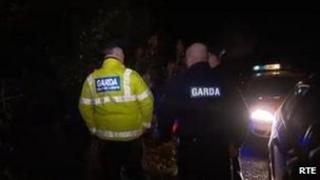 Police in the Republic of Ireland have concluded their search for a man missing from Dublin after body parts were discovered in County Meath.
Irish police said on Sunday that the man was 37-year-old Christopher Gaffney, a convicted drug dealer, from the Blanchardstown area.
His arm was found by a man walking near Clonee village in County Meath on Friday.
More of his remains were found in a nearby stream on Saturday.
Police have now launched a murder inquiry. Mr Gaffney was identified after fingerprints and DNA samples were taken.
A spokesman said the search could resume if additional information comes in.