Cup winners Sligo have name misspelt as 'Silgo' on medals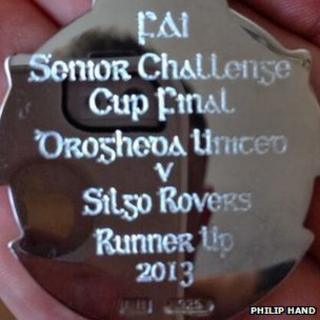 An embarrassing blunder by engravers took some of the shine off a memorable cup final win.
Sligo Rovers beat Drogheda United 3-2 in the Football Association of Ireland Cup final in Dublin on Sunday.
But it was only after the game was over that it was spotted that the engravers had spelled Sligo's name as "Silgo" on the cup medals.
An FAI spokesman said: "This was an error made by our supplier. The medals will be replaced."
The supplier has made a full apology for the mistake.
Drogheda player Philip Hand tweeted a picture of his runner-up medal, and the embarrassing misspelling, after the game.
The Sligo players only noticed the blunder on the bus on their way home.
Sligo player Alan Keane said: "Our skipper Danny Ventre was having a look and spotted it: 'Silgo'. We got a few laughs out of that.
"As long as the right words - cup winners - are on the back we won't worry too much about what's written on the back."