Sinn Féin 'has been sent more Anglo tapes' says Doherty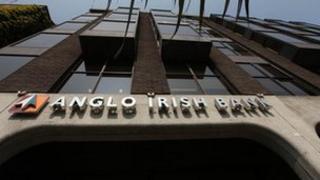 Sinn Féin has received a new batch of taped private conversations involving senior officials at the failed Anglo Irish Bank, a TD has said.
Pearse Doherty told the Irish parliament these latest "Anglo tapes" were sent anonymously, and the majority of them were not in the public domain.
He said he had delivered copies to the Garda Commissioner and the Irish Central Bank's governor.
However, he said he was keeping copies and could publish them at a later date.
The Donegal TD also claimed the Fianna Fáil government of the time had "more information in relation to the bank prior to the guarantee than they have previously disclosed".
The "Anglo tapes", leaked transcripts of phone calls made in 2008 when the bank was on the verge of collapse, were published by the Irish Independent earlier this year.
The transcripts included conversations about how the bank went about receiving 7bn euros (£5.9bn) of bailout funds. The bank ended up needing much more.
Executives at the centre of the controversy denied they had misled regulators.
Anglo was the first Irish bank to seek a government bailout.
It ran into trouble after lending tens of billions of euros to property developers before the collapse of the property market.
A government rescue package eventually cost Irish taxpayers 30bn euros ($39.4bn; £25bn) and the bank was nationalised in 2009.
The banking crisis led to Ireland having to ask the International Monetary Fund and the European Union for a 85bn euro (£72.4bn) bailout in 2010.