Row breaks out over Scottish EU farm subsidies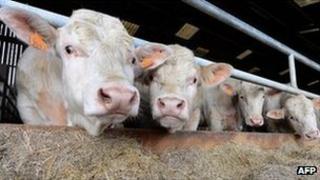 A row has broken out over the distribution of European subsidies for the farming sector in Scotland.
The UK government announced on Friday that payments through the common agricultural policy (CAP) would be spread across the UK.
It said Scottish farmers got a better deal on CAP as part of the UK.
But NFU Scotland and the Scottish government said the extra money, known as convergence uplift, should have been entirely directed to Scotland.
Scottish ministers claimed farmers north of the border would be deprived of hundreds of millions of euros in subsidies that were "rightfully theirs", adding that the only reason the UK qualified for the uplift was because of Scotland's low payments under the current system.
Under the new deal, farmers in England, Northern Ireland, Wales and Scotland will receive the same proportion of the CAP budget over the next seven years as they currently receive.
'A disgrace'
Direct payments will go down by 1.6% across all of the devolved nations, following a cut in the European CAP budget.
But Scottish Secretary Alistair Carmichael said the UK government was also willing to offer the Scottish government an opportunity to provide extra "coupled payments" of up to 10% in the livestock sector, rather than its allocated 8%.
Rural Affairs Secretary Richard Lochhead described Westminister's decision to share out the pot across the UK as "a disgrace".
"I do not know how UK ministers will be able to look Scottish farmers in the eye after this outrageous decision that amounts to pocketing Scotland's farm payments," he said.
"I am aghast that the new secretary of state for Scotland can welcome the UK government's decision to give Scotland the lowest farm payments in the whole of Europe and the UK.
"If Scotland had been a member state in our own right during those negotiations, we would have benefited from a one billon euro uplift.
"We have been denied that uplift and now we are even being denied up to 230 million euro uplift that the UK gets because of Scotland."
'Bitter blow'
NFU Scotland said farmers had been dealt "a bitter blow" by failing to win an immediate boost in European cash.
President Nigel Miller said: "While have been unable to secure a key element from this deal, there is enough within it and the commitments made that could deliver real, long-term benefits to Scottish farming if the Scottish government and Westminster can agree."
Scottish Conservative rural affairs spokesman Alex Fergusson said he was disappointed that all the extra convergence money did not go to Scotland.
But he said: "One stark statistic cannot be ignored: Scottish farmers receive an average of £9,000 more per head than their counterparts in other areas of the UK.
"It is therefore entirely understandable that farmers' representatives from other parts of the UK robustly opposed our argument that convergence uplift should come to Scotland."
Scottish Labour rural affairs spokeswoman Claire Baker said: "Whilst I am disappointed that Scotland has not received an immediate uplift as called for on a cross-party basis by MSPs, it is important that all sides continue to try and work together to achieve a fair deal for farmers across Scotland."