Typhoon Haiyan: Irish government to provide 1m euros aid for Philippines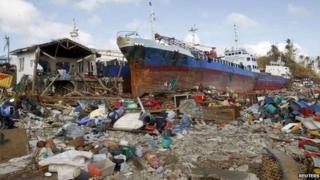 The Irish government has announced 1m euros (£836,000) in emergency funding towards the relief effort in the Philippines following the devastation caused by Typhoon Haiyan.
Officials estimate up to 10,000 people have died in Tacloban city.
It has since made landfall in northern Vietnam, where it has weakened to a tropical storm.
The Irish Minister for Foreign Affairs, Eamon Gilmore, said the funding would go towards shelter and food.
The head of the Red Cross in the Philippines has described the devastation caused by Typhoon Haiyan as "absolute bedlam".
Four million people have been affected and many are now struggling to survive without food, shelter or clean drinking water.
'Very worried'
A huge international relief effort is under way, but rescue workers have struggled to reach some towns and villages cut off since the storm.
The Republic of Ireland is to provide aid to the Philippines through Irish Non-Governmental Organisations (NGOs).
Tents, blankets and other basic necessities will be made available by Irish Aid and distributed in the Philippines through NGO Plan Ireland.
Ireland's Rapid Response Corps is also on standby to provide expert help to UN agencies operating on the ground.
In a statement, Mr Gilmore, who is also the Irish deputy prime minister (Tánaiste) said: "Ireland has strong bonds with the Filipino people through our missionaries and through the many Filipinos working in our hospitals and elsewhere in Ireland."
He said the funding and the emergency supplies will go towards those most at risk, as the crisis moves to the recovery stage.
More than 12,000 Filipinos live in Ireland and many have struggled to contact relatives in the aftermath of the storm.
Jaime Casilan who works as a cook in Walkinstown, County Dublin, said five members of his family are unaccounted for.
His brother, nieces and nephews were staying in one of the oldest towns in the Leyte province, Tanauan.
Most of their neighbours in the coastal region left their properties to get to safety, but Mr Casilan said his family stayed on.
"My house is only five minutes from the open sea. I am very worried.
"I can't sleep thinking what happened my relatives.
"If the house is gone you can rebuild the house, but if the human being is gone it's very sad."