Filipino chef loses 10 family members to Typhoon Haiyan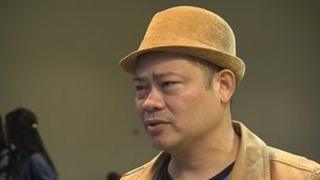 A Filipino chef who lost 10 members of his family to Typhoon Haiyan has said his home town has been erased from the map.
Jaime Casilan, who lives in Dublin, said more members of family are still missing.
He heard the devastating news on Monday after speaking to his sister in Manila.
"When I called her, I was so shocked when she told me that at the moment 10 of our relatives are dead, the rest are missing," he said.
Among the family members who lost their lives were nieces, an aunt and uncle, and cousins."
Mr Casilan grew up in a town close to the coastal city of Tacloban, one of the areas worst-hit by the typhoon.
When an evacuation notice was issued for residents to leave the area, his family decided to stay put.
"My sister told me they decided to remain in our house as it is built in the rocks, even though the typhoon was signal number four, she told me it's ok.
'Devastating'
"I asked my sister why they didn't leave the house. She said they underestimated the situation. The strong tide of water was like a tidal wave, like a tsunami, the water was 25 feet."
He said watching the disaster on television was "absolutely devastating" and continued to be every time he saw the news.
"The port of the island of Tacloban where I was born is erased from the map, people are walking like zombies, like the dead, everywhere is devastated. It's very, very sad.
"I am asking myself what am I supposed to do?
"I'm praying to God to give them strength. It's very sad but that's the part of the life, everything is God's plan."
Mr Casilan said all he could do was send financial support.
"Even if I go back home, a plane ticket, the cheapest is 700 euros (£590), 1,000 euros (£844), if I sent that to the Philippines, it's a lot of money, so that's why I'm thinking, instead of going back home I will send the money to help our relatives over there," he said.
Philippine President Benigno Aquino has declared a state of national calamity.
A huge international relief effort is under way, but rescue workers have struggled to reach areas cut off since the storm.
Death toll
The National Disaster Risk Reduction and Management Council (NDRRMC) said 1,774 people had been reported dead, 2,487 were reported injured and 82 were missing.
The death toll is expected to rise significantly in coming days. More than 580,000 people had been displaced and 41,000 houses had been damaged, the NDRRMC added.
More than nine million people have been affected in the Philippines. Many are now struggling to survive without food, shelter or clean drinking water.