Irish sisters freed from Egyptian jail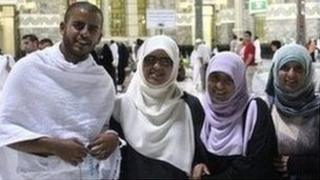 Three Irish sisters who were being being held by authorities in Egypt have been freed, the Irish government has said.
The Halawa family from Dublin were caught up in violence in the Egyptian capital and jailed in August.
Sisters Omaima, 20, Fatima, 22, and Somaia, 27, and their 17-year-old brother, Ibrahim, had travelled to Egypt for a holiday.
Ibrahim remains in detention but is to attend a further hearing on Saturday.
The Irish Minister for Foreign Affairs Eamon Gilmore welcomed the sisters' release.
"I telephoned Egyptian Foreign Minister Nabil Fahmy on Monday last to express my concern that the Halawa siblings had been kept in prison for almost three months without being charged with an offence," he said.
"I also expressed the government's hope and expectation that the situation would be brought to a satisfactory conclusion in the near future.
"Throughout their time in detention, our embassy in Cairo has been in regular contact with them, visiting them in prison and providing consular assistance."
Detention
He said his department would continue to provide consular assistance to Ibrahim Halawa and liaise with the Egyptian authorities on his "ongoing detention without charge".
The four family members were arrested after security forces stormed a mosque in Cairo.
The siblings said they were forced to seek sanctuary in the Al Fateh mosque in mid-August after violent clashes between supporters of ousted president Mohammed Morsi and the security forces.
They were subsequently jailed in Tora prison.