Paris-Opera deadly hotel fire trial opens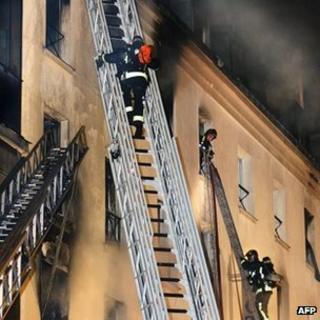 Four people have gone on trial over a fire in a hotel in central Paris in 2005 which left 24 people dead, 11 of them children, and dozens injured.
Many of the victims at the Paris-Opera hotel were from African immigrant families waiting to be re-housed.
On trial are the hotel's managers, their son the hotel's night-watchman, and his then girlfriend.
The fire was one of a series of fires in substandard buildings in Paris which shocked France.
The trial of hotel managers Rachid and Fatima Dekali, their son Nabil and Fatima Tahrour is expected to last until 22 November.
They are accused of involuntary homicide and injury and face between three and five years in jail if found guilty.
Victims trapped
The fire started in the early hours of 21 April 2005. Ms Tahrour reportedly previously admitted to accidentally starting the fire by throwing a pile of clothes on to some lit candles during a row.
At the time, the Paris-Opera was among the hotels used by social services as temporary housing for families who needed urgent help. The hotel was reportedly housing 77 people at the time, when it only had capacity for 62.
Nabil Dekali is accused of not alerting the emergency services quickly enough once the fire broke out.
Most of the victims were trapped on the upper floors of the building and some of them died when they jumped from the windows.
An emergency hospital and a makeshift morgue were set up in the nearby Galeries Lafayette department store.
Fire services said at the time that the hotel had a single entrance, adding that a separate fire exit was not mandatory for older buildings.
"The neglect is blatant, huge," Yann Le Bras, the lawyer for five of the victims' families, told AFP on Thursday.
However, Romain Boulet, who is defending the hotel managers, said the hotel was "one of the safest in its category, there were no indecent housing conditions".
The blaze was one of a string of fires in 2005 which prompted criticism of the French authorities for housing poor immigrants in inadequate accommodation.