Madrid calls in emergency street cleaners amid strike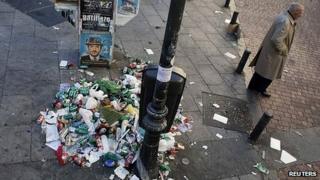 Emergency workers with police escorts will start cleaning the streets of the Spanish capital, Madrid, on Saturday after talks failed to end a strike.
The move comes after private contractors failed to guarantee minimum services within a 48-hour ultimatum imposed by city Mayor Ana Botella.
The 11-day strike has left Madrid's streets and parks piled with rubbish.
Cleaners walked out in protest at plans to lay off 1,134 of 6,000 workers and impose pay cuts on the rest.
On Friday, employers offered to reduce the layoffs to 296 but unions rejected the deal.
Services firms OHL, Sacyr and FCC said aggressive picketing by strikers had prevented them from providing the minimum level of services agreed with city hall.
Ms Botella imposed the ultimatum after facing heavy criticism for her handling of the strike.
However, Jaime Cedrum, Madrid secretary of the CCOO union, said on Friday he could not rule out clashes between strikers and the emergency teams.
"We could have any type of problem, I hope there won't be injuries, I just don't know," he told Cadena Ser radio.
The emergency workers, contracted by the publicly-owned company Tragsa, will only provide 40% of normal cleaning hours.
A spokesman for the city council said the plan to call in emergency workers would be reversed if there was a deal to end the strike.
But correspondents say no immediate end to the dispute is in sight.
"We are far away from an agreement as long as the threat of layoffs and salary reductions is on the table," said a UGT union representative, Alfredo Turienzo, quoted by El Pais.
Madrid is trying to cut its public service costs at a time when the whole country faces a strict austerity drive.