Italian judges explain Berlusconi's sex conviction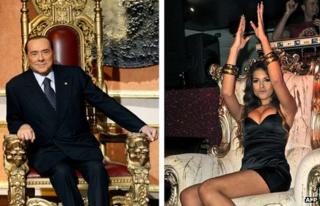 Judges in Milan have been explaining why they convicted former Prime Minister Silvio Berlusconi of having sex with an underage prostitute.
Berlusconi was given a seven year sentence in June, but is appealing.
Both he and the prostitute, Karima El Mahroug, denied they had had sex.
But the court said all that was needed to convict Berlusconi was evidence that his "sexual instincts" were stimulated in exchange for payment - and not proof of sexual intercourse.
Judges did not spare details of Berlusconi's and Ms Mahroug's sexual activities.
'Fondling'
They said that acts such as "stripping, nude dancing , displaying their nudity for the defendant at close range, are all behaviours objectively suitable for stimulating the sexual instinct of Berlusconi".
The statement also concluded that Berlusconi was the chief architect of the infamous Bunga Bunga parties which involved young girls performing erotic dances and where "female guests operated to satisfy the will of the accused".
It said the evenings ended with Berlusconi having physical contact with the girls "such as rubbing, fondling of breasts and intimate parts and groping buttocks, hips and thighs".
The girls were then paid with money, jewellery or other luxury goods for their services as well as job contracts within his Mediaset empire.
The court also concluded that Berlusconi was aware that Karima el Mahroug, better known by her stage name of Ruby the Heartstealer, was, at 17, a minor at the time of the parties. She received cash every time she attended a Bunga Bunga party.
Both parties deny having sex. But the court said that remained "irrelevant" and it was sufficient that Ms El Mahroug was "trading her body in any way for remuneration".
Correspondents say Berlusconi is unlikely to serve his sentence in jail.
He faces another hurdle next week when the Senate is expected to vote on whether to expel him after his conviction in May for tax fraud.