Republic of Ireland unemployment 'lowest in four years'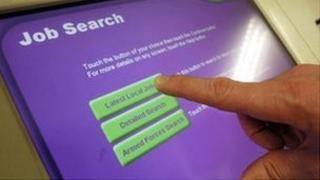 The unemployment rate in the Republic of Ireland has fallen to its lowest level in four years.
It now stands at 12.8%. The Irish government has welcomed the news but said more needs to be done.
In just over three weeks' time, the Republic of Ireland is due to exit its EU-IMF bailout.
Recent figures show the economy is improving. The latest statistics show an almost 1% drop in the level of unemployment.
Taoiseach Enda Kenny welcomed the fall in the rate, but said that exiting the bail-out would mean very little unless more unemployed people were back working.
Economists believe the latest jobless figures suggest that the Irish economy is growing at a rate ahead of forecasts.
The state requires a growth rate of at least 2%, if it is to continue to meet its on-going EU-IMF targets.