Italy ex-PM Silvio Berlusconi ends cabinet support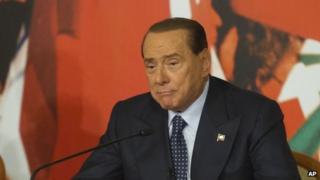 Former Italian Prime Minister Silvio Berlusconi has withdrawn his support from the coalition government - but failed to defeat it in a budget vote.
Prime Minister Enrico Letta won a confidence vote on the 2014 budget, despite Mr Berlusconi's defiance.
His Forza Italia party is moving into opposition days after a split in the centre-right group he led since 2007.
On Wednesday the Senate is due to vote to expel Mr Berlusconi from parliament over a criminal conviction.
The former PM has called supporters to protest in Rome on Wednesday against what he says is a political vendetta.
Broke away
Mr Berlusconi was convicted of tax fraud in October 2012 over deals his firm Mediaset made to purchase TV rights to US films. The verdict was upheld in August.
If Berlusconi is expelled from parliament, he would lose his immunity from prosecution and could be arrested over other criminal cases.
He told journalists on Tuesday that his party would vote against the budget.
Moments later, the Forza Italia leader in the lower house, Renato Brunetta, declared, "From today we are in opposition and the grand coalition is over."
However, the budget passed in the Senate with 171 votes to 135, helped by the support of lawmakers who broke away from Berlusconi earlier this month.
The group of about 60 centre-right senators split away from Forza Italia to form the New Centre-Right now led by Berlusconi's former right-hand man, Deputy Prime Minister Angelino Alfano.
President Giorgio Napolitano said Tuesday's vote on the budget was an endorsement for the government, according to Italian media reports.
The prime minister said on Tuesday he was working "incessantly to have a non-chaotic situation in Italy", adding: "What has happened in the centre-right will help stability in Italy, I am sure of it."