Memorial to Irish abuse victims rejected by planners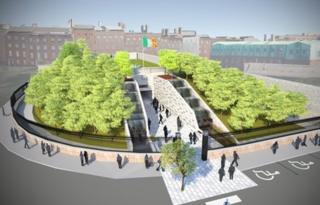 A plan to commemorate Irish victims of institutional abuse with a permanent, public memorial in central Dublin has been rejected by planning authorities.
The Journey of Light memorial was to be built at Parnell Square under a government proposal unveiled last year.
An Bord Pleanála, (the Irish planning board) ruled against the plan following objections from conservationists.
The planners said it would have an adverse impact on the nearby state memorial, the Garden of Remembrance.
They ruled that the proposed tribute to abuse victims would overlap with the existing memorial, which is used on state occasions.
The Garden of Remembrance is dedicated to all those who died fighting for Irish independence from British rule.
Irish state broadcaster RTÉ reported that objectors had complained it was "inappropriate put a memorial to abuse on the site of another memorial to the struggle for Irish freedom".
The plan to erect a permanent memorial to child abuse victims was recommended four years ago by a public inquiry that examined abuse in Catholic-run children's institutions.
Known as the Ryan report, the government-backed inquiry found that Catholic Church church leaders knew that sexual abuse was "endemic" in boys' institutions in the Republic.
It also concluded that neglect and physical and emotional abuse were a feature of many industrial schools and reformatories in the Republic of Ireland from the 1920s to the 1980s.
The Journey of Light memorial plan featured a covered passageway, lit at night, that would have led into the Garden of Remembrance.
It was to be constructed at a cost of 500,00 euros (£417,000) and was to be engraved with the government's official apology for the suffering of those who were abused while in its care.