Ghost estates: 40 unfinished developments to be demolished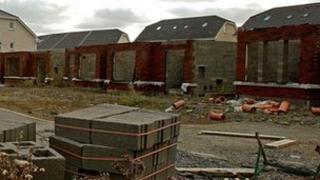 The Irish government has announced plans to demolish 40 unfinished housing developments, so-called ghost estates.
The half-built and unoccupied housing developments are the most obvious sign of the Republic of Ireland's property bust and financial crisis.
Irish Housing Minister Jan O'Sullivan said the 40 developments had been identified as suitable for demolition and that "almost all" were unoccupied.
Costs will be borne by the site owner - the developer, or more likely the bank.
Ms O'Sullivan said that where there were residents living in parts of the estates, they would be catered for with alternative accommodation.
The minister made her remarks as she launched a second annual report on unfinished housing developments.
It shows the number has more than halved since 2010.
More than 500 previously unfinished developments were completed in the past year, leaving about 1,200 ghost estates.
Almost 1,000 of the unfinished housing developments are partially occupied.