Cars seized over unpaid tolls on Dublin motorway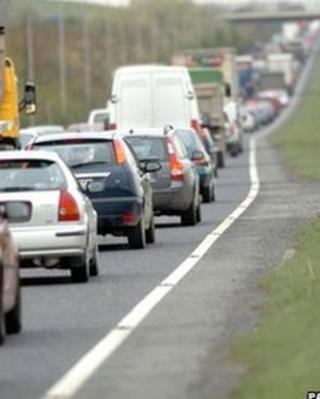 Four vehicles have been seized over non-payment of tolls on the M50 motorway in Dublin since the introduction of barrier-free tolling.
The National Roads Authority (NRA) said it was trying to recoup about 4m euro (£3.31) in unpaid M50 tolls for 2013.
The figure represents 4% of the estimated total revenue generated.
The NRA said 4% of vehicles passing through the toll do not pay. Half of these are based in the Republic of Ireland, while a quarter are from NI.
The remainder are from other countries.
About 110,000 trips are made each day through the M50 toll, generating about 100m euro (£82.8m) year.
Barrier-free tolling was introduced in 2008 and were replaced with electronic tolls.
The authority said more than 30,000 civil summonses had been issued to toll evaders, with more than 12,500 judgments being handed down in the courts.
It said 1,200 judgements had been passed onto the sheriff for collection.
The sheriff actions in these cases include formal collection of monies due and seizure of the vehicles.
Of the four vehicles seized, one was seized in Ballybrack in Dublin on foot of a court order of 5,624 euro (£4,657) for non-payment of tolls.
Payments
The money was paid, including costs to retrieve the car.
Two of the vehicles seized were sold at auction.
The NRA has issued its annual reminder of enforcement procedures for non-payment of tolls.
It urged motorists who have outstanding tolls to make contact with M50 toll operator eFlow to settle their accounts.
A spokesperson for the NRA said the majority of penalty issues were resolved before it came to taking a vehicle and that it was never too late to make contact with eFlow to discuss payments.
The NRA said it could have an impact on someone's credit rating if judgment was taken up against them or their case was referred to the sheriff.
The NRA employs Euro Parking Collection to issue non-payment notices and collect M50 tolls from drivers in other countries.
A spokesperson said its figures showed that the tolls collected in other countries pay for the expenditure of retrieval.