EU moves to prevent new migrant deaths after Lampedusa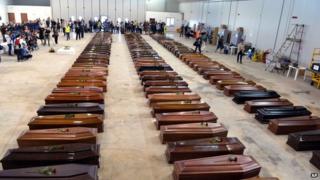 The EU has revealed plans to tighten patrols of its sea borders and do more to help asylum-seekers, two months after the Lampedusa boat tragedy.
A common strategy would be adopted from Cyprus to Spain to monitor routes taken by clandestine migrants, and thereby detect boats in distress more quickly.
Proposals to help people apply for asylum before travelling to the EU would be considered.
Disagreements between the EU's 28 states have dogged past initiatives.
The new initiative announced by the EU Commissioner for Home Affairs, Cecilia Malmstrom, on Tuesday is presented as a specific response to the Lampedusa disaster, when more than 350 migrants died in a shipwreck off the Italian island on 3 October.
However, it features some measures agreed long before the disaster, such as the European Border Surveillance System (Eurosur), which came into effect on Monday.
EU justice and home affairs ministers will discuss the initiative later this week, before it goes for final approval to a summit of EU leaders on 19-20 December in Brussels.
"Two months ago the tragedy in Lampedusa triggered a very wide and emotional reaction across Europe - a chorus of voices calling for actions to avoid such disasters in the future," Ms Malmstrom said.
"Today we are putting on the table measures and proposals for a truly European response that can make a difference."
The urgency of the crisis was underlined on Monday when Italian coastguards rescued some 120 migrants from a packed fishing boat adrift off the coast of southern Italy in gale-force conditions.
They were said to be mainly Syrians and included women and children.
Help abroad
The initiative gives priority to stepping up surveillance through a European Patrols' Network backed by the EU frontier agency Frontex, which would cost the EU an extra 14m euros (£12m; $19m) a year.
Eurosur would form part of this network, allowing states to share real-time images and data on developments at the EU's external borders.
In order to help genuine asylum-seekers before they set out on perilous clandestine journeys to Europe, the new initiative would encourage the policy of resettlement.
Under this policy, vulnerable people are brought directly to the country of asylum from foreign refugee camps or conflict zones, typically by air. EU states collected just under 5,000 people under this policy in 2012, compared with more than 50,000 taken by the US, the Commission says.
Another proposal is to examine the possibility of "protected entries", whereby asylum-seekers could lodge their application before heading for Europe.
Non-EU member state Switzerland, where the proportion of refugees per head of population is twice the European average, was unique in practising this policy until recently.
It allowed applications for asylum to be made at its embassies abroad before the system was abandoned in a popular referendum in June.
Other EU measures announced by Ms Malmstrom involve making the asylum application process within the EU more efficient; stepping up the fight against human traffickers; and closer co-operation with states on the traffickers' transit routes, such as Morocco and Libya.
Green politicians in the European Parliament attacked Tuesday's initiative, saying it was too vague and focused on surveillance rather than rescue.
"Under the guise of fighting trafficking, the Commission is looking to shift the EU's external borders to the African coast," Green migration policy spokeswoman Ska Keller said in a statement.