Pat Storey: Silver cross bequest for first woman bishop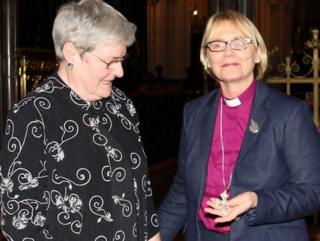 The UK and Ireland's first woman bishop has been bequeathed a silver cross by a campaigner for the ordination of women.
Bishop Pat Storey was presented on Monday with the cross that Daphne Wormell left in her will to the first woman bishop of the Church of Ireland.
Ms Wormell's daughter, Julia Turner, presented the cross to the bishop at a service in Christ Church in Dublin.
The campaigner wrote in 1970 that "bishops may yet be bringing their husbands to Lambeth".
Ms Wormell's prediction was written 20 years before the first ordinations of women in the Church of Ireland.
Mrs Storey, consecrated last month as Bishop of Meath and Kildare, told a packed Christ Church Cathedral she expected to bring her husband to the Lambeth Conference in 2018 for the gathering of bishops from all over the Anglican Communion.
'Trailblazer'
She said she felt a bit of a fraud receiving the cross as she "did not have to fight to get to her current position".
"I am here today because Daphne did it for me. I haven't had to fight because of all the women who did that," Mrs Storey said.
"I've been described in the last couple of months as a trailblazer, but Daphne was the trailblazer.
"I am thankful to Daphne and those who worked with her because she paved the way for me. I hope to fulfil her desire because in 2018, I hope to bring my husband to Lambeth."
The bishop, who is 53, grew up in Belfast. She has two adult children.
She studied French and English at Trinity College in Dublin, trained at the Church of Ireland Theological College and was ordained deacon in 1997 and priest in 1998.
She has worked as a youth worker with the Church of Ireland youth department.
She became a priest relatively late in life, beginning her training in her mid-30s, after working as a doctor's receptionist and for Weight Watchers.