French care worker charged with killing six pensioners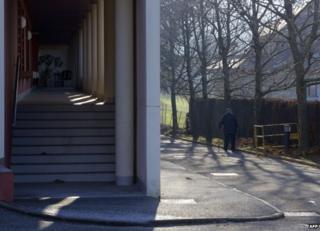 A care worker at a retirement home in the French Alps has been charged with poisoning six pensioners to death and attempting to poison three others.
She said she had wanted to relieve their suffering "without specifying exactly what she meant by relieve", an assistant prosecutor said in Chambery.
The six pensioners all died in the space of two months.
The suspect, whose own mother died after a long illness this year, was described as "isolated" and "fragile".
Those who died are all believed to have been in their eighties but were "not at all near the end of their lives'', assistant prosecutor Dietlind Baudoin said.
When a woman of 84 died last month, an autopsy uncovered suspicious traces of drugs, a police source said earlier.
An examination was carried out because the woman at the Cesalet retirement home in Jacob-Bellecombette, near Chambery, had suddenly fallen into a coma on 27 November, dying two days later.
An analysis found she had an overdose of non-prescribed medication.
The unnamed suspect, who is in her thirties, reportedly admitted giving a "cocktail of medication" to six people who were "mostly" "elderly if not very elderly" and who suffered from "chronic illnesses".
According to Mr Baudoin, the alleged killer "seemed quite affected by what she had done".
"She is someone who is calm and composed - that is her spirit," he said.
"She's a young woman who was socially isolated, who took care of her own mother for a long time, until she died in 2013, but apart from this fragility had a normal life."
According to its website, the facility specialises in care for the elderly with limited mobility and multiple illnesses.
Earlier in the week, a source close to the inquiry told French radio that aside from the death of the 84-year-old woman, investigators were looking into several other "troubling" circumstances at the home, the BBC's Christian Fraser reports from Paris.