Arrests in France horsemeat inquiry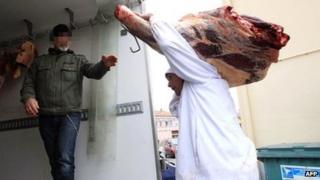 French police have arrested 21 people as part of an investigation into claims that horsemeat used to develop medicines was sold illegally for human consumption.
It is alleged meat from horses used for medical research by pharmaceutical firm Sanofi ended up in the food chain.
Under French law, any animal subject to medical testing cannot then be sold to be eaten.
The police say it appears documents from vets were falsified.
In a Europe-wide health scare in February, horsemeat was found in millions of ready-meals labelled as containing only beef.
The arrests on Monday were made at various locations in the south following allegations horses used for medical research had been sold into the food chain after their veterinary papers were falsified.
There is no suggestion at this stage the horsemeat was passed off as beef, reports the BBC's Christian Fraser in Paris.
This appears to be a different type of horsemeat scandal to the one that preoccupied Europe earlier this year, our correspondent adds.
Police were acting on a tip-off that between 2010 and 2012 hundreds of horses, including some previously owned by the pharmaceutical giant Sanofi, were sold to abattoirs.
More than 100 police officers were involved in raids at several Sanofi offices and at various abattoirs, including one in Gerona in northern Spain.
Those arrested included the supposed ringleader - who was arrested in the south-western town of Narbonne - the vets he employed, meat traders and IT specialists.
Sanofi has said it is co-operating with the investigation into "possible fraud", but played down the possibility of a threat to human health.
"The horses are all micro-chipped for traceability and they do not present any danger in the event of human consumption," a spokesman said, adding Sanofi had sold around 200 horses in the last three years.
"It is specified in their sales certificates that these horses are not to be introduced to the food chain, but that is as a precautionary measure, not because there is any danger."
The company said the horses had been used to provide blood for the manufacture of serums against tetanus and rabies and stressed they had not been used for drugs testing.
In February, France was at the centre of a Europe-wide scandal when it emerged ready meals sold into supermarkets across the continent were labelled as beef despite containing horsemeat.
The French government says Monday's revelation should be seen as evidence their new zero-tolerance approach to food fraud is now working, our correspondent reports.