Weapons found at Prague home of dead Palestinian envoy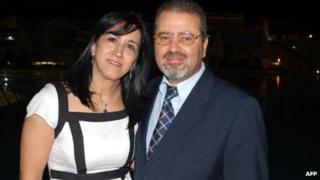 Police in the Czech capital Prague say they have found weapons at the home of the Palestinian ambassador, Jamal al-Jamal, who was killed by an explosion there on Wednesday.
Police chief Martin Vondrasek told Czech radio he could not give details other than that the arms had not been registered in the Czech Republic.
Earlier police said the blast appeared to have been accidental.
Mr Jamal had reportedly been opening a safe when the explosion happened.
He died of his injuries in hospital four hours after the blast at the two-storey property in the city's Suchdol district.
The safe had been moved from the old embassy building - once the residence of the Palestinian Liberation Organisation (PLO) - to the new site.
'In use daily'
After initial reports that the safe had been sealed for at least 20 years, an embassy spokesman said it had actually been in use regularly.
"The safe was being used almost daily for depositing money... used for salaries of embassy staff, for buying items for daily operations," said embassy spokesman Nabil el Fahel.
He dismissed the theory that an explosive safety mechanism had gone off.
A 52-year-old woman - believed to be Mr Jamal's wife - was also taken to hospital after the explosion but was later released.
A former Czech military intelligence chief, Andor Sandor, told the Reuters news agency that available information indicated that the blast could have been an accident or an attack of a private rather than political nature.
Czech police say it could take several days to conduct a full search of the safe before giving further details.
Jamal al-Jamal was born in Beirut and joined Yasser Arafat's Fatah faction of the PLO in 1975.
He served in its missions to Bulgaria and Czechoslovakia in the 1980s. He only took his Prague post in October and had spent only two nights in his new residence.
The Palestinian foreign ministry said it would send a delegation to Prague to assist with the investigation.
The PLO, which is recognised by the UN and Israel as representing the Palestinian people, has diplomats based in European and other capitals.