Italy's Bersani has brain surgery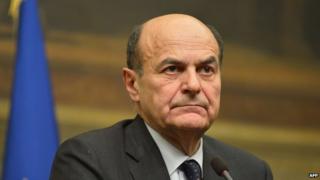 The former leader of Italy's centre-left, Pier Luigi Bersani, has undergone surgery after suffering a brain haemorrhage on Sunday.
The 62-year-old led the Democratic Party (PD) into elections last February but resigned after a disappointing result and party rebellion.
Mr Bersani is a former Communist and veteran of party politics.
When the PD failed to get enough votes to govern alone he was sidelined and the party's Enrico Letta became PM.
As a minister in the 1990s Mr Bersani pushed through liberalisation measures far removed from his earlier Communist background. He is also a devout Catholic.
He is now at the University of Parma hospital. Surgeons located the source of the haemorrhage after his emergency admission on Sunday.