Schumacher condition remains 'stable but critical'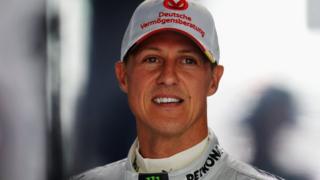 The hospital treating Michael Schumacher for head injuries says his condition remains stable but critical.
Doctors in Grenoble say he is being continually monitored but they will not be releasing more health details.
The former racing champion has been in a medically induced coma for the past eight days following a skiing accident in the French Alps.
Meanwhile prosecutors investigating the accident plan to give details of their probe on Wednesday.
The state prosecutor in Albertville, Patrick Quincy, told the AP news agency that French investigators were trying to obtain smartphone footage of the accident which the German magazine Der Spiegel reported had been shot by a bystander.
The magazine says that a flight attendant from Essen who was filming his girlfriend on the slopes happened to catch what he believes was Schumacher's fall in the background.
The 35-year-old planned to hand the footage over to prosecutors, Der Spiegel reported.
Monday's hospital statement said that the medical team will not be giving details of Schumacher's treatment for reasons of privacy, and no further press conferences were planned "for the time being".
The statement also asked journalists to refrain from reporting claims about the driver's health not originating from the medical team or his management.
On Monday his manager Ms Kehm told German media that his stable condition could be regarded as a "slight improvement" since the weekend.