French press says affair reports tricky for Hollande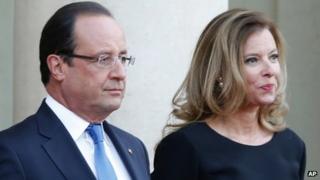 French papers agree that President Francois Hollande faces a difficult task politically after media reports of an alleged affair with the actress Julie Gayet.
On the eve of a news conference on his plans for the economy, editorial writers give Mr Hollande conflicting advice on what he should do.
Some regional titles are adamant that the president will have to explain himself.
'Decisive week'
"What an affair", reads Le Parisien's main front-page headline. The stay in hospital of Mr Hollande's partner, Valerie Trierweiler, "puts the president in a very tricky situation on the eve of his major press conference", the paper feels.
Under the headline "Hollande - noise on the line", the left-leaning Liberation agrees that the president's wish to present a clear policy is "being complicated" by the media revelations.
An editorial by Sylvain-Bourmeau suggests the president could close the issue at a stroke with a surprise declaration that he is now "a social democrat and proud of it", rather than a "closet social liberal".
The centre-right Figaro judges that Mr Hollande faces a "decisive week" after he was "forced to manage the public display of his private life".
However, the paper's editorial by Gaetan de Capele does not mention the alleged affair. Contrary to Liberation, it advises the president to assert his credentials as a "social liberal" by targeting "waste and abuse" in the welfare system.
The centre-left daily Le Monde questions reports linking the apartment reportedly used by the president for his affair to organised crime.
The man said to be involved tells the paper that the apartment is being rented by the mother of his children, "a friend of Julie Gayet", and he threatens to sue media outlets that have linked him with organised crime.
Questions about 'night-time jaunts'
Jacques Camus in the regional daily Le Berry Republicain defends Closer magazine, which broke the story of the alleged affair, against the charge that it has violated Mr Hollande's privacy.
"It is appropriate to ask questions about what this episode tells us about the character of the man in a helmet" shown in Closer's photos, he says.
Alain Dusart in the regional L'Est Republicain agrees that Mr Hollande "will have to explain himself over these night-time jaunts by moped", although the alleged affair "is unlikely to have an impact on his poll ratings".
Denis Daumin in La Nouvelle Republique de Centre-Ouest is categorical: "For as long as things have not been clearly said and 'clarified', nobody will pay serious attention to his message, neither inside the country nor beyond its borders, no more on unemployment than on the Central African Republic or Mali."
BBC Monitoring reports and analyses news from TV, radio, web and print media around the world. For more reports from BBC Monitoring, click here. You can follow BBC Monitoring on Twitter and Facebook.