Paris man 'tried to put out Arc de Triomphe flame'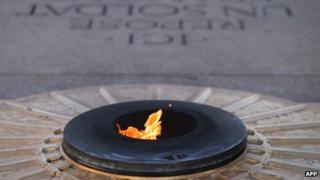 A drunken man has been arrested for trying to put out the eternal flame beneath the Arc de Triomphe monument in Paris, police say.
The man was held on Tuesday evening after running towards the flame with a fire extinguisher in hand.
Police said he admitted trying to snuff out the flame.
The flame burns in front of the Tomb of the Unknown Soldier, a memorial to the dead who were never identified in World War One and World War Two.
The flame has been attacked in the past.
In 2002 a soldier with mental health problems was arrested for trying to urinate on it, another man burnt himself the previous year after sitting over the flames and another was previously arrested for trying to cook eggs there.