Rachida Dati backs Cameron on EU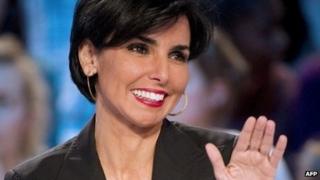 A senior figure in France's centre-right opposition has offered clear support for British PM David Cameron's "bold" drive for European Union reform.
Rachida Dati, who was justice minister under ex-President Nicolas Sarkozy, said the EU must be more democratic.
She backed Mr Cameron's call for a referendum on the EU and said that in the right circumstances France, too, should hold one.
Ms Dati was speaking to a conference in London on EU reform.
On Wednesday, at the same conference, the British Chancellor of the Exchequer, George Osborne, said the EU had to work well for all its members, not just those that used the euro. Otherwise the non-euro countries, like Britain, might find themselves forced out, he warned.
Elections approaching
Ms Dati is a Member of the European Parliament and a vice-president of the French centre-right UMP party.
With French President Francois Hollande proving highly unpopular, the UMP will be hoping to score highly in municipal elections in March and European elections in May.
Ms Dati said: "Today, a man in Europe has been bold enough to stand alone in calling for a different Europe. That man is David Cameron."
Mr Cameron has called for Europe to be more focused on the single market, for certain centralised powers to be repatriated to countries which want them back, and for a review of the European principle of free movement of people.
Ms Dati said the current French debate on the EU was more about the direction it should take than whether France should be part of it.
"In France we don't have the same demands or even the same relationship with Europe," she said.
However, if the debate evolves, she said, "I hope we will have the same courage to offer a referendum to our people".
Her speech was a highlight of the conference organised by the Open Europe think-tank, which campaigns for radical reform of the EU.
'Disregard'
France, under governments of both left and right, has traditionally been a driving force behind European federalism.
Many French politicians have criticised Mr Cameron's promise to renegotiate the terms for Britain's EU membership and then put it to a referendum.
But Ms Dati called for a "realist revolution".
She criticised the elite running the European Union, saying "this disregard from a certain political class in Europe has gone on for far too long".
"This disregard for the will of the peoples, so often expressed in the last few years, must stop."
She also echoed Mr Cameron's concerns about freedom of movement in the EU - concerns fuelled by the full opening of the EU labour market to Bulgarians and Romanians this month.
"We welcomed too hastily some countries which were not ready to integrate in the EU," she said, urging the 28-nation bloc to have a 10-year pause before taking in any more new members.
"Just like David Cameron, I believe we must fix a limit to the freedom of movement of workers," she said.
There is much opposition in France to the arrival of East European workers in low-paid temporary jobs, sometimes under conditions which undercut locals.
There was criticism of Ms Dati's position on free movement from some market liberals at the conference, including Swedish MP Mats Johansson of the Moderate Party and Thomas Rang of the new anti-euro Alternative for Germany (AfD) party.