Ex-lawyer Ruairi Ó Ceallaigh admits stealing 2.8m euros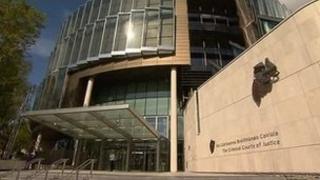 An ex-solicitor has admitted stealing 2.8m euros (£2.3m) from client accounts at his family-run law firm in Dublin.
Ruairi Ó Ceallaigh, from Collegeland, Summerhill, County Dublin, is accused of stealing the money over a period of more than three years.
It was taken from seven client accounts at Seán Ó Ceallaigh & Company, a legal firm based in Phibsborough, Dublin.
The accused told Dublin District Court he understood the seven charges against him and was pleading guilty.
The thefts took place between July 2006 and October 2009.
The 42-year-old was arrested by officers from the Garda Bureau of Fraud Investigation last month and, in an earlier appearance at the same court, he was charged under the Theft and Fraud Act.
On Thursday, the judge was told that a book of evidence did not need to be served because Mr Ó Ceallaigh's case would be going forward on a "signed plea" which was handed in to the court.
Mr Ó Ceallaigh is expected to be sentenced at Dublin Circuit Criminal Court on 7 February.