Dieudonne questioned after France complaint from bailiffs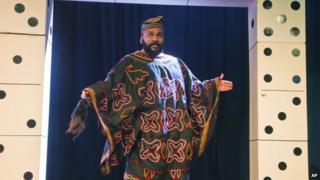 Police have questioned controversial French comedian Dieudonne M'Bala M'Bala after bailiffs alleged they were fired on with rubber bullets at his house.
The bailiffs had said they could not ascertain who had opened fire but a weapon was later found during a search of Dieudonne's property.
Dieudonne owes thousands of euros in unpaid fines for a range of offences, including anti-Semitic hate speech.
This month his show The Wall was banned on the opening night of its tour.
Dieudonne was initially questioned on Tuesday and also spent much of Wednesday in police custody before being released in the evening.
French media report that he denies being at the property at the time of the alleged incident.
His lawyer Sanjay Mirabeau said bailiffs had tried to gain access to the property on Monday evening by climbing over a fence.
Dieudonne's partner Noemie Montagne and the couple's security staff asked the bailiffs to leave, Mr Mirabeau said.
Having failed to hand over their demand for payment the bailiffs then returned to their car, the BBC's Christian Fraser in Paris reports.
It was at this moment they say the barrel of a weapon appeared over the top of the driveway gate, firing rubber bullets, our correspondent adds.
'Mocking' Holocaust
Earlier this month a ban on Dieudonne's one-man show The Wall was upheld by France's highest court.
Interior Minister Manuel Valls had taken strenuous steps to ban the show. Initial performances in Paris contained sketches including the performer miming urination against the Western Wall in Jerusalem.
Dieudonne was also recorded referring to the Holocaust in remarks about a Jewish journalist and mocking commemoration of the Nazi extermination of the Jews.
Last week he condemned "blatant political interference" in his act and he said he wanted to perform a new show devoted to Africa. This was also promptly banned by authorities in Paris.
On Tuesday French footballer Nicolas Anelka, who plays for the English premier league football club West Bromwich Albion, was charged by the Football Association (FA) over making Dieudonne's signature "quenelle" gesture after scoring a goal in a match last month.
The footballer faces a minimum five-match ban from the FA if found guilty of making a gesture that was "abusive and/or indecent and/or insulting and/or improper".
The gesture has been described as an "inverted Nazi salute", but Dieudonne says it is an anti-establishment gesture and denies that he is an anti-Semite.