Two Irish women die in Belgian fire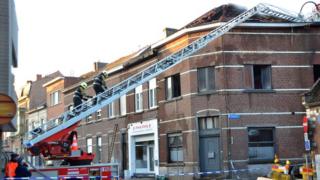 Two Irish women have died in a fire at a student residence in Belgium.
Dace Zarina, from County Longford, and Sara Gibadlo, from County Galway, were killed after the blaze broke out in the city of Leuven.
They were students at the Galway-Mayo Institute of Technology (GMIT), but were in Belgium for a work placement.
Ms Zarina's family is originally from Latvia and Ms Gibadlo's family is originally from Poland, but both women held Irish citizenship.
'Devastated'
Eight other students, who are also believed to be Irish, were rescued from the fire.
They were taken to hospital for injuries that are not believed to be life-threatening.
In a statement, GMIT offered its "sincere condolences" to their families and said its staff and students were trying to come to terms with their deaths.
Cait Noone, the head of GMIT's college of tourism and arts, said: "GMIT is devastated. Dace and Sara were very talented young students.
"They were both bright, creative young girls. It's a huge loss."
Ms Zarina, who was 22, and Ms Gibadlo, 19, were both second-year students at GMIT in Galway, where they were studying for degrees in hotel and catering management.
Earlier this month, they arrived in Belgium to begin a 30-week Erasmus work placement in the Leuven Institute for Ireland in Europe.
GMIT said it had a "long established working relationship" with the Leuven Institute for Ireland in Europe and had sent hundreds of students to the college for the past six years.
The statement added that GMIT management are liaising with the families of both women, the Belgian embassy and authorities in Leuven.