Hungarian MPs approve Russia nuclear deal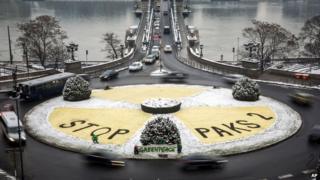 Hungarian lawmakers have approved a controversial Russian-financed plan to construct two new reactors at the country's only nuclear plant.
Under the deal, Russia will lend Hungary up to 10bn euros (£8.3bn) to build the reactors in the city of Paks.
The government says the bill - which was passed by 256 to 29 votes - will reduce reliance on foreign sources.
But critics argue it will make Hungary fully dependent on Russia, which is already its main oil and gas supplier.
The European Union also expressed concern over the deal's lack of transparency and fair competition.
There was no formal bidding process for the plant's expansion, and the terms of the loan agreement have not yet been made public.
'Against national interest'
The deal was approved by MPs from the governing Fidesz party and the far-right Jobbik party.
Hungarian opposition leader Gordon Bajnai said the agreement was "against the national interest" and would "give up Hungary's independence".
He has called on President Janos Ader to not sign the bill into law.
Correspondents say the expansion of Paks has emerged as an important issue in the 6 April general election.
Three protests were held in the lead-up to the vote, with the opposition Socialists moving away from their traditional pro-nuclear position, to join other opposition parties in a call for a referendum on the agreement.
Public opinion surveys show the country remains divided over nuclear energy.
Prime Minister Viktor Orban struck the agreement with Russian President Vladimir Putin in January.
The pact allows Russia's atomic energy corporation, Rosatom, to build the reactors in Paks, which lies around 100km (60 miles) south of the capital, Budapest.
It also stipulates that Russia will loan Hungary around 80% of the estimated construction cost.
The nuclear power station on the River Danube currently comprises four Soviet-built reactors, which came online between 1982 and 1987.
It generates some 40% of the Hungary's electricity supply.
The upgrade would increase production from 2,000 to 4,400 megawatts, with the reactors scheduled to begin operation in 2023.
The government said it expected the project to boost Hungary's economic growth and create up to 10,000 jobs.