Irish ombudsman bugging: Judge to head inquiry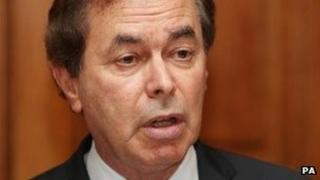 The Irish government is to hold an inquiry into claims that the offices of the Police Ombudsman Commission were bugged.
At a meeting on Tuesday, the cabinet agreed to appoint a High Court judge to examine the allegations.
The claims arose following a security sweep of the commission's offices when evidence of electronic surveillance was discovered.
Garda (police) Commissioner Martin Callinan welcomed the news.
Mr Callinan said the Irish police service would co-operate fully with the judge's inquiry.
'Confidential documents'
Ombudsman Peter Tyndall said the support of the state and the government was needed if people were to have confidence in his office.
"At the heart of this appears to have been a suspected, at the least, bugging of the offices and the leaking of confidential documents," he said.
"Under those circumstances, it is important that they get to the bottom of that and that they resolve any outstanding issues. I'm sure they need support in order to be able to do that."
Justice Minister Alan Shatter said he had briefed the cabinet on further information and documentation received from the ombudsman's officer and "further technical information I have received regarding the alleged surveillance".
"In light of the above, it was agreed at Cabinet today to appoint a retired High Court judge to enquire into all matters of relevance," Mr Shatter said.
The bugging allegations arose when British security experts were called in last year to carry out a sweep of the ombudsman commission's office.