Donegal bomb find: Irish soldier Mark Cassidy in court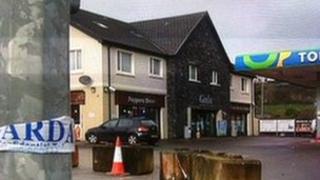 Irish police have said that other matters may come before the court in relation to a serving member of the Defence Forces already charged with having explosives.
Private Mark Cassidy of Grianan Vale, Ballyederowen, Burnfoot, appeared at Letterkenny District Court on Monday morning.
No bail was sought by Mr Cassidy's solicitor.
The case has been put back until Monday 3 March.
Police Inspector David Kelly said there may be other matters brought before the court and that directions had been received from the Director of Public Prosecutions.
Mr Kelly asked for Mr Cassidy's legal team to give police time to carry out the relevant checks on people being put forward as independent sureties.
Mr Cassidy had been brought to a special sitting of Letterkenny District Court last Thursday amidst tight security.
He faces two charges of possessing explosives at the same address in Burnfoot on Monday 19 February.
He is charged with having an explosive substance and also possessing 87 twelve gauge shotgun cartridges.
Detective Garda Michael Carroll told the sitting of the court that he arrested him on Tuesday 18 February and put the two charges to Mr Cassidy, but the accused made no reply.
Garda Inspector Michael Harrison had said he was objecting to bail because of the seriousness of the offences and because Mr Cassidy had no permanent address in the Republic.